Descripción del tour
---
En esta excursión visitamos la Costa de Girona, bautizada hace 100 años como Costa Brava, debido a su peculiar relieve abrupto y recortado, salpicado por pequeñas calas rodeadas de pinos y bañada por aguas cristalinas.

Su riqueza natural se manifiesta en que en buena parte de su territorio hay declarados varios Espacios Naturales Protegidos, como son el Cabo de Creus, los Aiguamolls de l'Empordà i la reserva Marina de las Islas Medes.

Aparte del característico relieve de su litoral, la Costa Brava debe también su fama a sus pueblos. Los que antaño fueron pequeños núcleos de pescadores, con casitas de paredes encaladas blancas y callejuelas estrechas y tortuosas, conservan todavía hoy en día ese encanto único.

Esta zona ha sido a lo largo de los tiempos lugar de entrada, paso y asentamiento de diferentes culturas y civilizaciones, las cuales han ido dejando su huella hasta la actualidad.

En esta excursión de medio día conoceremos la parte meridional de la Costa Brava y en ella dos pueblos que representan la esencia de dicha costa. Contrapuestos el uno del otro, pero a la vez complementarios, harán que, después de unas pocas horas fuera de Barcelona, regresemos con una completa imagen de lo que es la Costa Brava.

Nuestra salida es desde Plaza Catalunya en Barcelona todos los lunes, miércoles y sábados a las 8.30 de la mañana. Recomendamos estar allí unos 15 minutos antes.

Tomaremos la autopista y en aproximadamente 1 h 15 min llegaremos a Lloret de Mar, principal centro turístico de la Costa Brava. Nada más llegar nos percataremos de su bullicio, múltiples autocares procedentes de todas partes de Europa traen visitantes dispuestos a disfrutar de sus playas, hoteles, tiendas, actividades y sobre todo de su animada oferta nocturna.

Dispondremos de una hora para poder explorar este colorista y dinámico pueblo de marcada identidad.

A lo largo de su peculiar paseo marítimo podremos disfrutar de excelentes vistas a sus playas, desde la majestuosa playa de Lloret hasta la recóndita Sa Caleta. Asimismo, dos suaves colinas situadas a ambos extremos del mismo, nos podrán servir de privilegiados miradores de toda la localidad y su entorno.

Paseando por las calles estrechas, que esconden su reciente pasado marinero, descubriremos multitud de tiendas para todos los gustos: desde las últimas marcas hasta los típicos bazares playeros.

En medio de su calle más comercial podremos también admirar joyas arquitectónicas de gran valor como la Iglesia de Sant Romà de un exquisito estilo modernista en cuyo interior se encuentra un retablo del siglo XVI en excelente estado de conservación.

Sobre las 10:50 h subiremos a bordo del barco DOFIJETS que nos conducirá hasta la vecina población de Tossa de Mar. Mientras estamos navegando disfrutaremos del paisaje inigualable y tan característico de la Costa Brava: un desfile de enormes acantilados a los cuales la fuerza del mar y del viento han moldeado caprichosas formas a lo largo de los siglos.

Sobre las 12:00 llegamos a la emblemática población de Tossa de Mar, conocida como "la Perla de la Costa Brava" por albergar en poco espacio todos aquellos elementos paisajísticos y históricos por los que tiene tan merecida fama esta costa.

Sus paisajes espectaculares, desde sus costas, playas, cuevas en los acantilados hasta su vegetación salvaje, la convierten en una de las localidades que mejor ha sabido mantener su entorno natural con perfecta armonía al desarrollo turístico.

La historia ha ido dejando sus huellas, desde los romanos en la Vila Romana dels Ametllers, ejemplo clásico de explotación agrícola en el Mediterráneo y una de la más importantes de la antigua provincia de Tarraco, hasta su destacado recinto fortificado de la Vila Vella, declarado monumento artístico nacional en el año 1931, siendo sus torres y murallas el emblema del municipio. Actualmente es el único modelo de población medieval fortificada que todavía existe en el litoral catalán, construido a inicios del S. XIII, ha sido objeto de diferentes reformas que le han dado la estructura actual.

Fuera de sus murallas hay el antiguo barrio tradicional de pescadores de Sa Roqueta, donde todavía se mantiene ese aire marinero tan característico de los pueblos de la Costa Brava.

Una vez estemos en Tossa de Mar, para aquellos que les interese, iniciaremos un paseo desde la playa hasta la cima del perímetro amurallado donde se encuentra el faro. Allí, podremos recrearnos con unas impactantes vistas del litoral. Al descender, pasaremos por las calles estrechas de la Vila Vella hasta llegar al barrio marinero. A partir de aquí, se dispondrá de tiempo libre para acabar de descubrir el entorno y para comer. Esta localidad dispone sin duda de la oferta gastronómica más amplia y variada de toda la Costa Brava.

Un tranquilo paseo a lo largo de su playa nos ayudará a encontrar rincones con perspectivas únicas de la costa.

Otra visita imprescindible antes de partir es a la Vila Romana dels Ametllers, situada en pleno centro urbano, tiene un fácil acceso, entrada libre, plafones explicativos y destaca por unos muy bien conservados pavimentos con mosaicos.

No se puede abandonar tampoco Tossa sin curiosear por las pequeñas y atractivas tiendas de sus típicas calles.

Alrededor de las 15:00h regresaremos a Barcelona a donde está prevista la llegada a 16:30 aproximadamente.
Cronología
---
08.30 h. Salida de Barcelona, plaza Catalunya.

10.00 h. Llegada a Lloret de Mar. Visita pueblo.

10.50 h. Navegación hacia Tossa de Mar.

12.00 h. Llegada a Tossa de Mar. Visita población y tiempo libre.

15.00 h. Regreso a Barcelona.

16:30 h. Llegada a Barcelona, plaza Catalunya.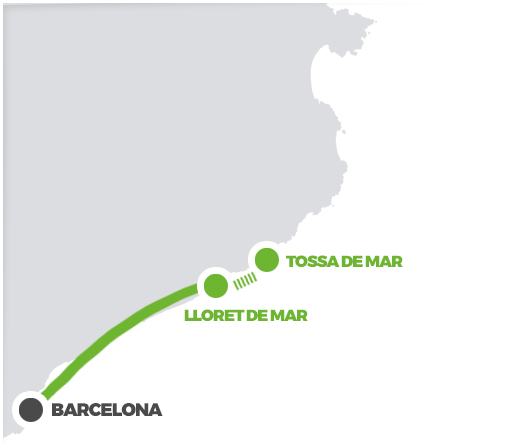 Precio y detalles
---
PRECIO: 55€

INCLUIDO EN EL PRECIO: Confortable autocar con WIFI gratuito, guía acompañante, ticket barco Dofijet e impuestos.

NO INCLUIDO: Comida

NIÑOS: gratis para menores de 6 años

TODAS LAS EXPLICACIONES DE LA EXCURSION SON EN ESPAÑOL E INGLÉS

SERVICIO GRATUITO DE AUDIOGUIAS EN ALEMAN, FRANCES, ITALIANO, RUSO, CHINO Y PORTUGUES

DURACION: 8 horas
Exelente!

24 Julio 2017 / Gabriela – Argentina / GETYOURGUIDE

Es un tour donde se recorre muchísimo, y se aprovecha el tiempo para recorrer sobre todo. No es un tour para hacer playa, sino para recorrer y conocer. Me encantó!


---

Prisvärt och jättetrevlig guide!

23 Julio 2017 / Pia – Sweden / GETYOURGUIDE

Spännande information om regionen under bussturen och en härlig båtresa längs kusten. Som älskare av båtturer passade vi dessutom på att ta en 60 min båttur in i Costa Bravas grottor under lunchuppehållet på ca 3 timmar i Tossa de Mar. Även den väldigt prisvärd och en jättefin upplevelse! Biljetter för ca €15 säljs på stranden.


---

Great

23 Julio 2017 / Ghinwa – Lebanon / GETYOURGUIDE

It was a gr8 experience and its not a time loss


---

Excellent tour

23 Julio 2017 / Dana – United States / GETYOURGUIDE

Loved the guide, the boat, the bus, the experience. It was perfect and exactly what we were hoping for.


---

V GOOD…GUIDES V NICE

20 Julio 2017 / SYED SHAHEER – Spain / GETYOURGUIDE

A VERY GOOD TOUR....BOTH OF THE GUIDES WERE VERY NICE AND WITH EVERY TYPE OF INFORMATION YOU NEEDED....WILL GO AGAIN SOON......


---

Nous avons adore notre journée d excursion. Guides excellents !!!

19 Julio 2017 / Lyne – Canada / GETYOURGUIDE

Excellente et bravo a vos guides qui sont professionnels et attentionnées envers les gens de l excursion. Je la recommande sans hésitation! Costa Brava destination a ne pas manquer lors d un séjour à Barcelone!


---

Costa Brava was Amazing !

18 Julio 2017 / Nanor – Canada / GETYOURGUIDE

After searching for boat trips while in Barcelona, my sister and I came across this guided tour to Costa Brava and we did not regret it. It is a must do when you visit Barcelona! The bus ride was comfortable, our tour guide was very cute and friendly and best for last the boat ride to the few island stop until Torre de Mar was relaxing and beautiful ! We had more than enough free time during the half day tour to visit each places we visited which made our trip even better.


---

Fantastisk tur

16 Julio 2017 / Pia – Denmark / GETYOURGUIDE

Fantastisk tur,- kan absolut anbefales


---

Wide variety of experiences all in one trip

15 Julio 2017 / Kevin – Canada / GETYOURGUIDE

We were impressed that we had 3 guides so each group was a great size. Monika was excellent and made everyone feel welcome. Spanish, English and French. We visited 2 small beautiful coastal towns: it would be nice to have enough time for a coffee there, but we had many more stops. The medieval town was gorgeous. We had a long lunch break at the shore before our boat ride. It was a nice ride, but there is not much time in the submerged viewing area. Finally the Greek and Roman ruins. Our guides were very knowledgeable. If you are not interested in archeology you go to the beach. It sounded refreshing. It was a comfortable (long) ride back... I didn't realize how far north we had gone. Suggestions for visitors. .. remember to bring sunscreen and at least a litre of water, although you can buy some at a number of stops. Suggestions for Barc. Holidays: with a shorter lunch time people could have more time at the first 2 stops. It would be helpful to point out washrooms at each stop.


---

Superbe aventure….à voir et à faire.

11 Julio 2017 / GetYourGuide Customer – Canada / GETYOURGUIDE

Belle organisation et guide super sympa et professionnelle.


---

It was wonderful, I recommand it to well see the spanish cost

6 Julio 2017 / Rima – Canada / GETYOURGUIDE

It was a great experience full of activities. The cost is gorgeous and the villages really beautiful. We stopped to eat sea food and it was great. The boat tour was 1h and 30mn which is perfect to take full adventage of the see and the cost beauty. I recommand it.


---

COSTA BRAVA – Todos los azules en un solo lugar

4 Julio 2017 / Ivana-ARGENTINA / BARCELONA HOLIDAY

Visité la COSTA BRAVA el 04/07. La organización y cumplimiento de horarios fue impecable al igual que la información y predisposición de los guías. Visitamos lugares increíbles donde la majestuosidad de sus paisajes, se funde con las huellas del paso tiempo. También recorrimos lugares lleno de historia con las ruinas griegas y romanas. Nos movimos en un autobús nuevo con aire acondicionado y personal siempre atento a nuestras necesidades. Sin duda una experiencia para recomendar. Imposible no perderse en esa magia de azules que se intensifican a lo largo de toda la costa brava. No dejen de disfrutarlo.!


---

Super !

4 Julio 2017 / Raphaël – Belgium / GETYOURGUIDE

Super activité, tres ponctuel ! Nous avons appréciés les moments de temps libres.


---

Maravilhosa

2 Julio 2017 / ALVARO – Brazil / GETYOURGUIDE

Ótima excursão


---

Excellent Tour!!!!!!!

25 Junio 2017 / Sharon – United Kingdom / GETYOURGUIDE

We book this tour our last day in Barcelona and it has been amazing!We were spending our last days in Barcelona when we met a young American couple in the hotel during breakfast. They told us about a very nice tour they have enjoyed the day before to Costa Brava and they recommend us not to miss it. We never planned before a trip to there but our new friends were so excited that we decided take the tour last day of our vacations and what a surprise! The places we visited were awesome!In Lloret de Mar we were walking along the nice beach promenade.The boat ride was wonderful: the sceneries, the small beaches…..not to be missed! But the best it has been in Tossa de Mar, What an amazing place!!! We would like to be there at least one week and we are really considering to spend our next holidays in Tossa de Mar. The walk to the top is awesome and also we got such a friendly and Knowledge guide that makes the trip even more interesting. Unforgettable!! I absolutely recommend this tour!!


---

Sehr Interessant

18 Junio 2017 / Andrea – Switzerland / GETYOURGUIDE

Man sieht wunderschöne und interessante Orte! Sehr gut erklärt von den Tourguides in 5 verschiedenen Sprachen! Sehr empfehlenswert!!


---

A must to do in Barcelona

17 Junio 2017 / a GetYourGuide Customer – Saudi Arabia / GETYOURGUIDE

This activity will show you the other side of Barcelona, the clear sea water, and vintage historical catalan villages.


---

Fabulous! Guides were fab and the trip was great value for money :-)

16 Junio 2017 / Susan – United Kingdom / GETYOURGUIDE

Amazing day and amazing fun guides! Would highly recommend :-)


---

Tour encantador con guías y chofer de primera.

15 Junio 2017 / Elena – Uruguay / GETYOURGUIDE

Excelente!


---

Excelente

11 Junio 2017 / miguel angel antonio – Argentina / GETYOURGUIDE

Un Tour muy bueno , confortable, de muy buen nivel y excelente guía , nos encantó . 10 Puntos


---

Leuke trip

11 Junio 2017 / Gerardus – Netherlands / GETYOURGUIDE

Was prima georganiseerd. Leuke gids. Te kort in Lloret de Mar klein uurtje dat was jammer. Tossa de Mar was voldoende tijd en de boottrip was heerlijk ontspannend. Kortom leuk om eens te ervaren. Wij wilden gewoon de Costa Brava eens zien omdat het ons nooit als vakantiebestemming heeft getrokken. Nou dat was dan een leuke manier om kennis te maken.


---

It was an amazing day full of activities

7 Junio 2017 / RICHARD – Lebanon / GETYOURGUIDE

It was an amazing day plenty of activities full of charge and i advise my friends to spend such a day


---

2 Junio 2017 / Marilyn / VIATOR

The Costa Brava day trip was a great day trip. It was nice to get out of Barcelona and see the coast. We traveled in a comfortable bus to several places. We had some time at each place to explore on our own. Our guide was very good. We walked a small portion of the Camino Ronda, which is an easy coastal hike that takes you along coastal villages and fishing towns. It was a beautiful day and we enjoyed a boat trip around some rocky islands. They let us go down to observe the fish not much to see. Also stopped at a medieval town along the way. Very fun day!


---

Excelente las guías y el recorrido.

31 Mayo 2017 / MARIA LUISA – Uruguay / GETYOURGUIDE

Excelente


---

EXCELLENT TOUR!!!!

28 Mayo 2017 / Evelyn – United Kingdom / GETYOURGUIDE

I loved this tour, the places we visited, guides, bus, boat….excellent organization, not wasting times, very interesting guided visit in the Greek city. Highly recommended.


---

Lots of places ticked off the list!

25 Mayo 2017 / Heather – United States / GETYOURGUIDE

If you are looking to see as much of Costa Brava as you can in one day, then this is the tour for you. The tour guides are lovely and very informed on all the areas you visit. Most importantly, the views are beyond compare! Although you don't get to spend lots of time in each stop, the amount of ground you cover more than makes up for that. What a great way to scout your next holiday!


---

Upea reissu

25 Mayo 2017 / Jukka – Finland / GETYOURGUIDE

10 todella hieno reissu suosittelen!


---

Very nice!

25 Mayo 2017 / GetYourGuide Customer – Romania / GETYOURGUIDE

Everything was ok! The guides, the bus, the views! We wanted, maybe, a little time longer in Lloret de Mar! Thank you!


---

Great tour!

22 Mayo 2017 / William – Spain / GETYOURGUIDE

Great tour of the Spanish coast and small town


---

Superbe visite

21 Mayo 2017 / Melodie – France / GETYOURGUIDE

Les endroits visités étaient vraiment beaux merci


---

Buen recorrido, lugares muy interesantes. Óptimo el cumplimento del horario

17 Mayo 2017 / Juan Manuel – Chile / GETYOURGUIDE

Un Tour bien organizado, buena relación precio calidad.


---

Great tour – would highly recommend

15 Mayo 2017 / Patricia – United States / GETYOURGUIDE

Tour guide was great!


---

Une journée bien remplie

14 Mayo 2017 / Caroline – Canada / GETYOURGUIDE

Excellent rapport qualité prix. La guide parlait un très bon français. Ce tour permet de voir beaucoup de chose en une seule journée. C'est très bien rodé. On ne perd pas de temps.


---

Recomendable

11 Mayo 2017 / Rodrigo – Uruguay / GETYOURGUIDE

Es ameno, las guías bien, no aburren con datos irrelevantes. Lloret y tosa ambos muy lindos, sobre todo El Segundo por los paisajes.


---

Muhteşem bir yer..Tavsiye ederim.

11 Mayo 2017 / Edit – Turkey / GETYOURGUIDE

Tur şahanr..rehberler hatika..Yer Muazzam.


---

Lindisimo paseo

10 Mayo 2017 / María sofia – Argentina / GETYOURGUIDE

Micro excelente.Guia muy gentil y dispuesta a solucionar todo. Explicaciones muy claras e interesantes.


---

9 Mayo 2017 / James P / VIATOR

Excellent tour. Long and intense day visiting amazing places, nice boat trip, very comfortable bus and very knowledge guide. Highly recommended.


---

Excelente una gran visita

9 Mayo 2017 / José Iván – Panama, Panama / GETYOURGUIDE

Un paseo muy lindo con una vista distinta y cumpliendo a cabalidad el horario.


---

It's amazing what you can accomplish in a half day

5 Mayo 2017 / Aman – Singapore, Singapore / GETYOURGUIDE

It was a rather comfortable bus tour & while the group was sizeable, the tourguide's knowledge & multilingual proficiency was impressive. Costa Brava itself was beautiful & this is a highly recommended half-day detour from Barcelona for a whiff of the beautiful coastline! The tour also ensures that you have sufficient time to walk around, eat & even pick up some souvenirs while you're at it!


---

Amazing experience with beautiful sights and awesome tour guide!!!

4 Mayo 2017 / a GetYourGuide Customer – Spain / GETYOURGUIDE

This was a really good experience! We did a lot in one day and our tour guide was really good! Very informative and I learnt a lot! Views were beautiful - the medieval town of pals was amazing and the boat tour was great fun as well :D


---

12 Abril 2017 / Craig / VIATOR

This is a great tour. It is a long day with so many places to see and visit. The boat excursion is very peaceful and relaxing. You end the day with the tour of a Greek and Roman ruins. We are taking another tour with Barcelona Holiday this coming June 2017.


---

10 Noviembre 2016 / Edward b / VIATOR

We decided to take this tour our last day in Barcelona and it was the best one. The spots we visited were amazing but the walk between the first villages and the boat trip were our favorites. We highly recommend this tour.


---

Excellent tour

7 Noviembre 2016 / Drew – Estados Unidos / GETYOURGUIDE

I loved this tour: the places we visited were amazing, guides very nice and helpful, very comfortable bus, the boat trip very enjoyable and relaxing…I absolutely recommend this tour.


---

Excellent tour

3 Noviembre 2016 / Grace - España / GETYOURGUIDE

I loved this tour to Costa Brava! We visited stunning places, boat trip was amazing and the guides very professional. Very good organized. Absolutely recommended!


---

2 Noviembre 2016 / Alejandra J / VIATOR

Mañana muy agradable en la Costa Brava, tour muy bien organizado con excelentes guías. Maravilloso paseo en barco y las vistas de subida al castillo de Tossa de Mar impresionantes. Excursión totalmente recomendable.


---

Excelente

23 Octubre 2016 / Daniel – Argentina / GETYOURGUIDE

Muy buena. Ampliamente recomendable


---

Absolut stressfreie, schöne Tour

17 Octubre 2016 / Stefanie – España / GETYOURGUIDE

Alles war super, vom Anfang bis zum Schluss. Monica der Guide für die englischsprachigen, war sehr verständlich und für die mit weniger englisch Kenntnissen, gab es einen Audioguide, den ich bevorzugt habe, da man einfach anhören konnte wann man wollte. Jedem stand frei, sich der Tour mit Guide anzuschliessen, oder alles auf eigene Faust zu entdecken. Unkompliziert, pünktlich, interessant, super schöne Eindrücke, sehr gut organisiert!


---

Muy lindo!!!

14 Octubre 2016 / Maria del Carmen – Argentina / GETYOURGUIDE

Me encanto el recorrido, playas, montañas, pueblos, el barco alucinante. Me hubiese gustado tener mas tiempo para estar en cada lugar. sacaria las ruinas griegas y romanas por cansancio y tiempo. Saludos


---

Großartig, wunderschön!

11 Octubre 2016 / Gralla, Austria  / GETYOURGUIDE

Diese Tour ist nur zu empfehlen - sie ist gut organisiert und man hat für alles mehr als ausreichend Zeit. Es sollte aber im Vorhinein beachtet werden - es gibt einen Tour-Führer für spanisch Sprechende und einen für Englisch. Alle anderen Sprachen werden mit einem Audioguide zur Verfügung gestellt. Wir haben uns die Tour auf Englisch angehört, aber die Audioguide-Teilnehmer schienen ebenfalls zufrieden. Die Tour-Führerin war ausgesprochen nett und es gab gleich am Anfang den Hinweis, dass der Bus weiterfährt zur besprochenen Zeit - wer nicht da ist, wird stehen gelassen. Damit kamen wir auch nirgends zu spät an, was uns genug Zeit für das Herumspazieren und essen gab - einfach großartig! Totales Plus für die Tour :) Man sieht bei dieser Tour echt viel und es ist eine super abwechslung zur Stadt Barcelona. Nur zu empfehlen!


---

Très jolis villages de la Costa Brava

6 Octubre 2016 / Manon – Canadá / GETYOURGUIDE

Belle ballade en bateau le long de la côte, moment de détente sur la plage et pour explorer les villages. Très bien.


---

Super

6 Octubre 2016 / Jens – Grimma, Alemania / GETYOURGUIDE

Alles ok !


---

3 Octubre 2016 /  James S / VIATOR

Barcelona is such a wonderful city but after a few days it was truly refreshing to escape the city noise and visit the Costa Brava region. We fell in love and would love to plan another vacation with lots of time in this region. This tour covered a lot of territory and is great if you want to see lots of sights. We thoroughly enjoyed the boat ride and underwater viewing and just wish we could have stayed on the beach longer. Seeing the ruins wasn't that important to us since we just returned from Athens and Pompeii but it was interesting. It was obvious our tour guide Tony was working very hard to keep his English understandable and I appreciated his attitude and kind nature.


---

Belle journée bien organisée

30 Septiembre 2016 / Corinne – Suiza / GETYOURGUIDE

Guides sympathiques et compétents; visite de Tossa del Mar très intéressante.


---

Excellent

29 Septiembre 2016 /  Kenza – Argelia / GETYOURGUIDE

Une magnifique excursion l'organisation était au top les guides aussi.           


---

Bon voyage

22 Septiembre 2016 / Petranka – Canadá / GETYOURGUIDE

Très bien


---

Wunderbarer Ausflug – gut organisiert.

22 Septiembre 2016 / Lydia – Austria / GETYOURGUIDE

Die Organisation verlief sehr professionell. Die Führer haben sich um die Gruppe bemüht und waren sehr freundlich. Für uns waren in der englisch-spanischen Gruppe deutschsprachige Audioguides vorhanden, mit welchen wir diverse Informationen und die Geschichte übermittelt bekamen. Sehr schöner Ausflug, an dem man auch einiges an Informationen über Land und Leute bekam.


---

Great

20 Septiembre 2016 / Mo'ad   / GETYOURGUIDE

Great trip and the tour guide Monica was very helpful and kind


---

Tout était merveilleux !

17 Septiembre 2016 / Nathalie – Canadá  / GETYOURGUIDE

5 étoiles


---

16 Septiembre 2016 / Dieter R / VIATOR

Wir dachten, die Costa Brava sei überlaufen und voll mit Jugendlichen, die feiern wollten aber wir erlebten eine Überraschung! Die Orte sind sehr exklusiv, ruhig und wunderhübsch, genau das Gegenteil von dem, was wir erwartet hatten. Der Ausflug war hervorragend organisiert und es ging pünktlich los aber was uns am besten gefiel, war, dass wir den interessanten Erklärungen der Reiseleitung mithilfe der sehr gut aufgenommenen Audioführer in unserer eigenen Sprache folgen konnten


---

Excelente! Mucho para ver y disfrutar

13 Septiembre 2016 / Nathalia – Argentina / GETYOURGUIDE

Hermoso recorrido de la Costa Brava, con paisajes paradisíacos e incluso con momentos para disfrutar de las playas. El paseo en barco por islas Medas es sin duda inolvidable. Lo recomiendo!


---

Une très belle journée et des paysages magnifiques !

13 Septiembre 2016 / Cathy – Canadá / GETYOURGUIDE

Guides très professionnels. Activité très bien organisée. Rien à redire !


---

Muy bueno

8 Septiembre 2016 /  Olga – Argentina / GETYOURGUIDE

Muy bueno


---

Perfekter Ausflug

8 Septiembre 2016 / Customer GetYourGuide – Premnitz, Germany / GETYOURGUIDE

Alles war wunderbar


---

C'était magnifique

3 Septiembre 2016 / Khaled – Bélgica / GETYOURGUIDE

Très bonne visite, les guides étaient très gentils et compétant.


---

Recomendable tour

2 Septiembre 2016 / Carla – España / GETYOURGUIDE

Aunque se va a muchos lados en un solo dia, resulta muy ameno y para nada cansador. El guia Joan Antoni simpático y eficiente.


---

Amazing experience

31 Agosto 2016 /  Erin – Estados Unidos  / GETYOURGUIDE

My family and I booked this trip to have one day outside of the city. It was one of the best things we did the week we were in Spain. Our tour guide was insightful and the trip was smooth and enjoyable. The boat ride was beautiful and the views from Tossa de Mar were unforgettable.


---

Places not usually on our radar, a plus.

31 Agosto 2016 / Sarah – Canadá / GETYOURGUIDE

Our tour guide certainly knew her stuff without reading it (as some others do) and was very friendly. It was a very full day to beautiful seaside villages and the archeological ruins. Too bad the fish weren't biting under the glass-bottom boat. We were glad we chose this tour and would recommend it.


---

26 Agosto 2016 /  Sandra / VIATOR

Me ha encantado esta excursión, un día inolvidable. Paisajes bellísimos, pueblitos de encanto, un paseo en barco muy relajante...los guías muy atentos y en general todo muy bien organizado y profesional.


---

Amazing views!

26 Agosto 2016 /  Michelle – Reino Unido / GETYOURGUIDE

I'm so glad that I booked this tour! Our tour guide Monica was friendly. We had a chance to enjoy the stunning views on the boat ride and had some free time on the beach. The walking tour in the village was informative and engaging as well! I would highly recommend this to anyone especially if you only have a limited time in Spain :)


---

20 Agosto 2016 / Dfesta  / VIATOR

Beautiful area of Spain I would highly recommend adding this tour to your Barcelona trip


---

It was perfect.

20 Agosto 2016 /  Mudassir – UAE  / GETYOURGUIDE

5 star


---

La costa brava est juste magnifique ! !!!!

20 Agosto 2016 / Rebecca – Francia / GETYOURGUIDE

Pas assez de temps libre entre les pauses mais tout été magnifique.


---

Great break from Barcelona

15 Agosto 2016 /  Anastasia – Malta / GETYOURGUIDE

So beautiful places. Absolutely must see! Great tour guides, good bus. Very little time in places so bring a snake with you. Next holiday in Spain will be spent in one of Costa Brava villages:)


---

12 Agosto 2016 /   Christine / VIATOR

A great opportunity to see a beautiful coastline. Guide was excellent. Medieval town Pals and the Greek and Roman ruins site at Empuries was amazing.


---

Hervorragend!!!

12 Agosto 2016 / Juliana – München, Alemania  / GETYOURGUIDE

....für die kurze Dauer, entdeckt man unheimlich vieles neues, schönes. Der Ort, die Geschichte dazu, das Essen und die Menschen vor Ort die zusammen einen überragende Eindruck hinterlassen. Monica und die "Jungs" sind total aufmerksam und bemüht jeder zufrieden zu stellen. Ich werde auf jeden Fall die Tour bei denen erneut in Anspruch nehmen. Herzlichen Dank an euch!


---

Excelente tour

11 Agosto 2016 / Liliana – Argentina / GETYOURGUIDE

Muy bueno, los guías muy amables, respondieron mis preguntas y dudas          


---

Giornata strepitosa! Personale veramente competente!

11 Agosto 2016 / un Cliente GetYourGuide – Italia / GETYOURGUIDE

La giornata è stata strepitosa! In poco tempo abbiamo visto posti magnifici in compagnia di una guida davvero competente. Tutto è organizzato in maniera perfetta, dalla partenza fino al ritorno. Assolutamente consigliato per chi vuole gustarsi una gita fuori porta nei dintorni di Barcellona.


---

Stupendo

10 Agosto 2016 / Joshua – Italia  / GETYOURGUIDE

Esperienzaaaa bellissima consiglio di farla...          


---

To do in Cataluna !

8 Agosto 2016 / Romain – Francia / GETYOURGUIDE

(half day) The value for money is very good. Nice boat ride with beautiful landscapes of Costa Brava. The underwater view does not bring anything. The guides are very friendly and explain very well the history of the Costa Brava.


---

Fantastic

6 Agosto 2016 / Romford, Reino Unido / GETYOURGUIDE

Did the half day tour today after missing out on the full day tour originally booked for last Thursday via another company (got my refund though). I really wanted to do the Costa Brava trip as I had seriously considered booking a vacation for Costa Brava before settling on Barcelona (good decision) Monica was a very good guide. We had lots of time to explore and do things we wanted. We had opted out of the walking tour because the kids were well fed up of tours by then and just wanted the seaside. We are still making our way back as I write this and they are asleep as are most people on the bus. We loved it and I think for young kids the half day tour has turned or to be the better choice. Will definitely use the company again. And Costa Brava, well worth the trip.


---

Super

5 Agosto 2016 / customer  GetYourGuide – Austria / GETYOURGUIDE

Ausflug Begleitung sehr nett und bemüht um alle Teilnehmer.Uns hat gefallen.Weiter zum empfehlen.


---

4 Agosto 2016 /  J J   / VIATOR

Quite a good bus trip and the part on the boat along the coast was really most enjoyable, seeing the cliffs, beaches, pirate caves and so on. Time in Tossa de Mar was sufficient for a quick look around. We did not walk up to the old fort as path was a bit too steep for us.


---

Hermosos paisajes!! Lo recomiendo.

2 Agosto 2016 / Sandra – Caba, Argentina / GETYOURGUIDE

Es un tour para no perderse!!! Recorrimos unos paisajes encantadores. La guía, Monica, fue muy clara con la explicación y muy predispuesta. El micro muy cómodo.


---

Un dia completo en la Costa Brava

2 Agosto 2016 / CarlosGuzman, Buenos Aires, Argentina / TRIPADVISOR

Un tour organizado con esmero. La guia muy amable en todo momento. El recorrido es variado: pueblo antiguo, pueblo nuevo, paseo a pie, paseo en barco, ... Vi imagenes que nunca olvidare en mi vida. Me sorprendio gratamente que al final nadie nos suplicara que escribieramos un comentario, por eso hago este.


---

It's great and will do it again

1 Agosto 2016 / Rafik – UAE / GETYOURGUIDE

It was great me and my family enjoyed very much with it


---

Great mix of activities

29 Julio 2016 / customer GetYourGuide – Estados Unidos / GETYOURGUIDE

Good mix of sights, walking and history. Beautiful views and good pace.


---

Super wycieczka!!!

20 Julio 2016 /  Joanna – Bad Kreuznach, Aleman / GETYOURGUIDE

Bardzo dobrze zorganizowana wycieczka.Pani przewodnik Monika bardzo sympatyczna. Przepiekne widoki!!!Polecam!!!


---

Un dia estupendo en la Costa Brava

19 Julio 2016 / Pedro – España / GETYOURGUIDE

La excursión está muy bien organizada. Los guías muy amables en todo momento. Los lugares que se visitan son diferentes el uno del otro y todos tienen un gran encanto e interés. El viaje en barco es una gozada, tanto por las magníficas vistas exteriores de la costa como por lo curioso que resulta ver tan de cerca el fondo marino. En resumen, un tour muy ameno, variado y que sin lugar a dudas recomendaría.


---

12 Julio 2016 / spunkybunks / VIATOR

I did both the full day tour this tour and the half-day Costa Brava tour with this company. I thoroughly enjoyed them both! This tour is the longer 12 hour tour that visits smaller villages. They were all stunning and were highly varied from beach villages to a medieval walled town. They even gave us plenty of time to enjoy a fantastic seafood sit down meal in the restaurant of our choosing. Highly recommended tour.


---

10 Julio 2016 / Luis P / VIATOR

This tour was amazing!


---

Muy buen tour de un día a la Costa Brava!!!!

8 Julio 2016 / ANNA – España / GETYOURGUIDE

Muy bien!!! La guia, Mónica, muy profesional. Todo perfecto.             


---

28 Junio 2016 / MARTIN Y / VIATOR

Absolutely a first class tour!


---

A no perdérselo !!!

23 Junio 2016 / Nery – Paraguay  / GETYOURGUIDE

Excelente el tour, recorrimos lugares muy lindos y playas paradisiacas. Los agentes de tour fueron bastante amables, especialmente Monica. Una experiencia buenísima


---

22 Junio 2016 / Rhonda H / VIATOR

Loved the trip to Costa Brava ! A beautiful seaside town, we climbed the many stairs to the top of the hill to a beautiful old castle with amazing views. The boat ride was enjoyable with it glass bottom to view the underwater world. Free time for lunch where we chose a restaurant who cooked fabulous pizza and jugs full of sangria. There was plenty of time for a swim in the nice clear water before heading back to Barcelona. Very enjoyable day !


---

Wonderfull

20 Mayo 2016 / Von Kelly sch / REGIONDO

Lloret mocht iets langer duren, je bent er een uurtje vrij. Tossa de mar mocht dan weer half uurtje korter. Lloret is echt mooi en in de dag rustig. De boottocht is leuk, plezant en een geweldig uitzicht. De boot stopt op meerdere locaties en dan kan je de vissen zien onder de boot. Aankomst in Tossa is overweldigend, prachtig en rustig. Het middeleeuws dorp was magnifiek en de kleine winkelstraten ook gezellig. Voor te eten zijn er zeker 50 restaurants. Wij waren pizza gaan eten in het centrum met cola en bier en kostprijs 20 euro. Dus dit valt goed mee. Je vind er zelfs een Belgisch/Nederlandse bar op het strand. Echt een aanrader.


---

20 Mayo 2016 /  Christian H / VIATOR

Tour was amazing! Costa brava was beautiful, boat ride was great! Tour guides were wonderful as well as very knowledgeable. Definitely worth going. Only thing I would change is the 40 minutes of free time in first town as second town we visited was better.


---

19 Mayo 2016 / Aishah R   / VIATOR

Absolutely amazing if weather is nice. i went with my five month old baby and she enjoyed it as well.


---

Costa Brava tour with BARCELONA HOLIDAYS with tour guide Monica

15 Diciembre 2015 / Zzdianne  Brisbane, Australia / TRIPADVISOR

We have done 3 tours with Barcelona Holidays, last year in August 2014 we went on a day tour to the Costa Brava with Monica to Estortit and costal towns and beaches that also included a 1 1/2 hour cruise. It was a full day and there was a lot of walking with amazing scenery. The tour was from 8.30 - 8.30 at the cost of 82 euros. This tour was exceptional value. I have had trouble finding the BARCELONA HOLIDAY site to review on tripadvisor. Hence my late review. This year July 2015 we went on another full day tour ( 8 hours 55 euros) to the Costa Brava. Tossa Del Mar was the high light of this tour which also included a cruise on this most beautiful coast. We were very pleased to have Monica again as our guide. She is an excellent guide, very informative and has very good people skills. There is no wasted time on her tours, you get exceptional value for money. These tours to the Costa Brava with Monica have been some of the best value tours we have done on our many trips to Europe.You don't get taken to tourist shops to waste time buying trinkets etc. Yet you are give ample to do so if you want in,the free time given during the day. We highly recommend BARCELONA HOLIDAY tours (you book tours at the tourist information centre) Hopefully, we can find another day tour with this company next year.


---

Unforgettable trip

30 Septiembre 2015 / C4ssie_S Pompano Beach, Florida / TRIPADVISOR

I did the Full day trip to Costa Brava without lunch. Our guide, Monica, was professional, attentive and informative. She kept a great pace and was very well informed. The places we visited were unforgettable. I recommend 100%.


---

29 Septiembre 2015 / Jones / VIATOR

On a day of glorious sunshine this trip was very good. The villages and the walk between them was the highlight. The cruise was the low light and I would not recommend that part. Amazing archeological visit at the end.


---

C'est à voir

28 Septiembre 2015 /  Customer  GetYourGuide – Mascouche, Canadá / GETYOURGUIDE

Belle excursión.


---

Amazing!

27 Septiembre 2015 / Ekaterina – Dubai, UAE / GETYOURGUIDE

Great tour with a great views. Monica was awesome!


---

Delightful

26 Septiembre 2015 / Linda / REGIONDO

I though the half day tour was great and well done realized. The guide was very informative. I particularly enjoyed the boat ride and Tossa de Mar. I highly recommend this excursion.


---

26 Septiembre 2015 / Erin M / VIATOR

Good value for the money spent. The views from the boat were breathtaking. Costa Brava is a gorgeous place to spend some time. The highlight was definitely Tossa de Mar. The medieval town was absolutely stunning. Our tour guide was informative and friendly and shared a fair amount of information about the area with us. There was a good amount of free time to spend exploring Tossa de Mar which has a beautiful beach, cute shops and streets to explore. Overall we were very happy with this tour and are glad we did it.


---

Muy buena experiencia

25 Septiembre 2015 / Lilian Maritza – Barcelona, España / GETYOURGUIDE

Excelente servicio y las guías fueron super amables y se preocuparon todo el tiempo de que la pasemos bien.


---

25 Septiembre 2015 / Philip m  / VIATOR

Monica our tour guide was excellent and very informative, we had the best day, the cruise was like a separate little tour, the views were amazing, lots of strenous walking but well worth doing.


---

21 Septiembre 2015 / Sylvie L / VIATOR

It was a fantastic day with a great group of people and a super guide. It should be noted that in the case of some people, it may be a little difficult to climb some of the streets which are quite steep. We went to several villages of the Costa Brava and ate a marvellous meal in one of its fabulous restaurants. I recommend highly Les Salines if you like to eat fish. I also highly recommend this whole-day excursion.


---

Belle journée

16 Septiembre 2015 / customer GetYourGuide – Montréal, Canadá / GETYOURGUIDE

Nous avons apprécié notre journée.


---

A most enjoyable tour and good value for money

15 Septiembre 2015 / JoyceNLiz de  Manchester, Reino Unido / TRIPADVISOR

Thoroughly enjoyed our full day tour of the Costa Brava, which included visits to four villages, including the medieval village of Pals, a sail round the Medes Islands in a glass-bottomed boat and a tour of the Graeco-Roman remains at Empuries. Monica was an excellent guide; she and her colleague were very friendly and helpful and the tour was very well-organised. Very good value for money and would recommend this to other visitors to Barcelona.


---

12 Septiembre 2015 / Sally C on / VIATOR

Fantastic and varied day. Highlight was the boat trip, looking at a spectacular coastline, crystal-clear water and beautiful fish, but it was ALL good and the guide was excellent.


---

8 Septiembre 2015 / Duane S / VIATOR

Extremely well organized and well run. Monica is an excellent guide. We were able to experience so much in Costa Brava. Highly recommended.


---

An excellent day tour of Costa Brava

7 Septiembre 2015 / packedandready2go -California / TRIPADVISOR

I am not usually a fan of tours given on large buses but this trip changed my mind. This was a very full day with visits to many beutiful Costa Brava towns, medieval ruisn, greek ruins Roman ruins and a marine reserve. Monica is an excellent guide. The tour ran like clockwork with the guide advising everyone early on if you are not at he niext pickup point on time you have chosen to do the rest of the tour on your own. This worked. Highly recommended.


---

Sehr nette Führerin. Schöne Tour

6 Septiembre 2015 / customer GetYourGuide – Kassel, Alemania / GETYOURGUIDE

War ein sehr schöner Tag.


---

Excelente tour

4 Septiembre 2015 / Juan jesus – Madrid, España  / GETYOURGUIDE

Gracias a Mónica. Por su seriedad, por sus abundantes explicaciones, por su entrega.


---

Tour a la Costa Brava

29 Agosto 2015 / Pedro B de Caracas, Venezuela / TRIPADVISOR

Vimos este tour en las oficinas de turismo y nos pareció muy interesante poder visitar 5 lugares diferentes en un solo circuito. Lo que no contábamos es que todos los sitios fueran tan bonitos y a la vez diferentes. El servicio de la compañia fue impecable: autobus comodo, guia muy amable, todo muy bien organizado y coordinado. Valoramos también muy positivamente que no se nos indujo a comprar, ni observamos ningun interes comercial ni en el itinerario, ni en la hora de la comida ni dentro del bus.


---

A wonderful day

22 Agosto 2015 / Arvid h de Bergen, Noruega / TRIPADVISOR

We decided to choose the half-day excursion to the Costa brava to explore places outside of Barcelona; it was a blind decision but we made the perfect choice. We were enchanted by this place, especially Tosa de Mar, it is so beautiful! The company organisation was excellent and the friendly guide was always there to help and answer all our questions.


---

Fantastic adventure that never disappointed!!

8 Agosto 2015 / George – Orlando, Estados Unidos / GETYOURGUIDE

Amazing scenery and history! My full day trip to Costa Brava was a fantastic experience that I thoroughly enjoyed. The tour was well worth the cost and the adventure was full of surprises and magical destinations. The time at each location was adequate and although I wanted more time to explore at each stop along the way, I never felt rushed. I hope others are fortunate enough to have Monica as their tour guide because she was well versed in the history, culture and places we visited along the journey. I work in the guest service industry for a leading entertainment company and know quality when I see it. First class all the way. This is a fantastic tour that I will return to again! Highly recommended.


---

Excursion magnifique

4 Agosto 2015 /  Leny f de París, Francia / TRIPADVISOR

Il s´agit d´une excursion magnifique, le choix a été judicieux. Nous avons entendu parler pour la première fois de la Costa Brava en collectant des informations pour visiter Barcelone. Les photos nous ont tellement plu que nous avons décidé de visiter ce lieu. Les photos sont en dessous de la réalité, la zone est magnifique et nous conseillons à tous ceux qui passent quelques jours à Barcelone de la visiter.


---

28 Julio 2015 / Harvey / VIATOR

Fabulous day trip. We went to five sites in one day. Had such a nice professional tour guide, Monica. Actually two tour guides on the trip. Nice bus operator. Everything was spectacular. For the money, it cannot be beat.


---

Meritevole

25 Julio 2015 / Roberta – Gorizia, Italia / GETYOURGUIDE

!! Consiglio a tutti di fare questa gita molto istruttiva e piacevole allo stesso tempo. Luoghi e paesaggi incantevoli. Località da tenere in considerazione per le prossime ferie.


---

24 Julio 2015 / Christine / VIATOR

Excellent tour, guide is very professional and knowledgable. Its also a good value for money considering we had to visit many places. If you want to get a taste of Costa Brava, this tour is for you.


---

Bella Costa Brava

10 Julio 2015 / Marco M - Italia / TRIPADVISOR

Siccome eravamo a Barcellona nel fine settimana, avevamo la possibilità di conoscere la Costa Brava in una gita il sabato mattino, in modo che avevamo tutto il pomeriggio per conoscere la città. Eravamo interessati a visitare la Costa Brava poichè tutte le guide turistiche spagnole lo consigliano ed avevamo la curiosità di conoscere la zona. In realtà è stata un´ottima scelta, il posto ci è piaciuto molto e pensiamo già nel ritornarci ed andare direttamente a trascorrere alcuni giorni a Tossa de Mar.


---

6 Julio 2015 / Victoria D / VIATOR

The guide was excellent! Everything was beautiful. The scenery was spectacular!! There was a nice mix of bus, walk, and boat ride. We also had free time, which was appreciated. This was my favorite trip in all of Spain.


---

It was awesome

28 Junio 2015 / Customer  GetYourGuide – MumbaiI, India / GETYOURGUIDE

The guide Monica was very friendly and warm. It was overall a great experience. Thanks.


---

Excellent tour

21 Junio 2015 / Customer  GetYourGuide – Ruislip, Reino Unido / GETYOURGUIDE

Perfect amount of time for people who just have 1 day to spare. Not enough time if you plan to spend few hours at the beach. Perfect for us as we didnt had enough time!!!


---

19 Junio 2015 / jbccsh / VIATOR

Wonderful. Very comfortable bus, tour guide knowledgeable and entertaining.


---

18 Junio 2015 / Anita J / VIATOR

Great trip. The guide was wonderful and comfy bus thanks.


---

Excellent tour

17 Junio 2015 / Daniel C / TRIPADVISOR

Several acquaintances recommended this tour of the Costa Brava and we are pleased to report that it was worth it: we had a wonderful day, all the places which we visited were beautiful, the guide was very pleasant and had expert knowledge of all the land marks, the bus was very clean and comfy. In general, everything was excellent and we will also recommend it.


---

9 Junio 2015 / Harold B / VIATOR

Beautiful scenery especially the coastal areas. Excellent guide, excellent bus driver, very professional! Great tour.


---

Was für ein toller Tagesausflug

27 Mayo 2015 /  Markus, Alemania / GETYOURGUIDE

Die Tour entlang der Costa Brava kann man nur empfehlen: Traumlandschaften, Meer, Geschichte, kleines gotisches Dorf, Schifffahrt mit Unterwasserwelt und griechische bzw. römische Ruinen. Hier lernt man die tolle Umgebung Barcelonas richtig kennen. Wir hatten auch eine super Reiseführerin, die sogar gut Deutsch sprechen konnte und sehr engagiert alles erklärt hat. Diese Tour kann man jedem nur ans Herz legen !!!


---

A worthwhile experience

26 Mayo 2015 / Mario – Orange park, Estados Unidos / GETYOURGUIDE

Very pleasant tour guide and driver. Explained the historical and geographical information in a very interesting way.


---

21 Mayo 2015 /  Rishabh S / VIATOR

Great tour! Our tour guide Monica was multi lingual, very friendly and helpful. The costa brava coast is a must visit.


---

21 Mayo 2015 / Laura B / VIATOR

Trip was excellent and a great addition to our stay in Barcelona. Our tour guide was great and extremely knowledgeable. Great tour!


---

Tour a Andorra

5 Enero 2015 / Carlos Alberto S Buenos Aires, Argentina /  TRIPADVISOR

Estábamos de vacaciones en Barcelona toda la familia y decidimos ir un día a conocer Andorra.Barajamos varias posibilidades y la que nos pareció más completa e interesante fue la de Barcelona Holiday.Fue un tour privado en un autobús pequeño, muy lindo y cómodo. El conductor Juan y la guía Mónica fueron muy agradables en todo momento.El viaje es un poco largo, unas 3 horas, pero se nos hizo muy ameno con las curiosidades que nos iba explicando Mónica sobre los sitios por los que íbamos circulando.En Andorra hay tiendas espectaculares y en general toda la ambientación nos pareció muy elegante.Lo que más nos gustó, sin embargo, fue el pueblecito de Ordino que visitamos antes del regreso a Barcelona.


---

A great tour of the Costa Brava

4 Septiembre 2014 / Lena L Solna, Suecia / TRIPADVISOR

We have gone on many tours all over the world and this is undoubtedly the best one. It´s like an action film. There is no time wasted waiting around for a bus which never arrives. I swear you´ll want to return to each of these places in a future visit so you can share them with your friends. The organization was impeccable. The tour is really well designed.


---

Umfassende Besichtigungstour durch die Costa Brava

22 Agosto 2014 / Berta K de Berlín, Alemania / TRIPADVISOR

Als wir lasen, wie viele Orte bei dieser Eintages-Tour besucht werden, dachten wir, die Besichtigungen wären sehr oberflächlich und schnell abgehandelt, aber das war nicht der Fall. Die Exkursion ist sehr gut vorbereitet und die Route gut gewählt, man kann alles in Ruhe ansehen und wird umfassend informiert. Wir haben den Tag sehr genossen und können diesen Ausflug wirklich empfehlen.


---

A pleasant morning on the Costa Brava

15 Agosto 2014 / Peter T Peakhurst, Australia / TRIPADVISOR

We had heard a lot of good things about the town of Tossa de Mar and we decided to see it. We took this tour because we wanted to return soon to Barcelona and the price seemed spot on. We thought the tour would be: arrive, look around and then go but it was much more than that. Throughout the trip, there were very interesting explanations about Catalonia and the Costa Brava. The first stop was in Lloret de Mar where we got on a boat. Monica, our guide, was very helpful and pleasant the whole time and she showed us the most picturesque spots in Tossa. The arrival to Tossa by sea was amazing, truly unforgettable!


---

A relaxing day in the Pyrenees

10 Agosto 2014 /  Esther E Washington / TRIPADVISOR

In the midst of visits, queues and the heat, we decided to sign up for this excursion and it was a splendid decision. The trip and explanations were great. The scenery at the end of the route was truly spectacular: everything was so green, peaceful and relaxing. I really loved the cheese and wine served in our afternoon snack. I would love to find that in my country!


---

Fantastic half day trip

5 Agosto 2014 / Patrick – longueuil, Canadá / GETYOURGUIDE

Great tour! We visited breath-taking sights with a knowledgeable and friendly guide.


---

Тур по побережью Коста Брава

4 Agosto 2014 / Никита Ф Krasnodar Krai, Rusia / TRIPADVISOR

После изучения Барселоны, похода по всем её достопримечательностям решил открыть для себя побережье Коста Брава, о котором много был наслышан. Обратился в турфирму, где мне предложили данный тур. Путешествие длилось чуть более 11 часов, которые были наполнены яркими впечатлениями! Экскурсия проходила по основным курортным городам данного региона, которые отличаются живописностью, обилием красок и чистейшими пляжами, в ней экскурсовод доступно и в увлекательной форме рассказывает об истории, традициях и культуре данного региона. Также частью экскурсии является поездка на катере, с возможностью осмотреть богатый подводный мир Средиземного моря, и первые греческое и римское поселение на территории Пиренейского полуострова, которые, кстати, очень здорово сохранились. Очень понравилась поездка, отношение сотрудников компании, и атмосфера которая царила на протяжении экскурсии!


---

Dieser Tagesausflug war ein beeinduckendes Erlebnis für uns.

17 Julio 2014 / un Cliente GetYourGuide – Leipzig, Alemania / GETYOURGUIDE

Da der Tagesausflug in englischer Sprache stattfand, bekamen wir als deutesche Touristen zu Beginn von unserer Reiseleiterin einen Guide ausgehändigt, auf dem alle Sehenswürdigkeiten in deutscher Sprache erklärt wurden. Da auch mit ihr die Verständigung in unserer Sprache möglich war, gab es für uns keinerlei Probleme. Das Tagesprogramm ist etwas umfangreich und es gibt nur sehr wenig Freizeit, aber man bekommt sehr schöne und interessante Orte gezeigt. Unser Fazit: Es war ein anstrengender aber rundherum gelungener Tag für uns.


---

Beautiful Trip

7 Julio 2014 / Adam – Cloverdale, Australia / GETYOURGUIDE

It was just right amount of time. Beautiful coastline, relaxed and friendly guide/service. Rest on the Bus on the way back was good also.


---

Beautiful Tour

6 Julio 2014 / Katherine – Guelph, Canadá / GETYOURGUIDE

Our guide Monica was knowledgeable and extremely friendly. Our tour covered a lot of ground by walking, bus and a wonderful boat trip. It was a very full day but such an enjoyable one! Would highly recommend this tour.


---

Großartige Tour, kompetente Reiseleiterin!

18 Junio 2014 / Evelyn-Jaquina – Berlin, Alemania / GETYOURGUIDE

Die angebotenen Ziele entsprachen voll meiner Erwartung, wir hatten eine Tag mit vielen interessanten, grandiosen Erlebnissen. Unsere Reiseleiterin war sehr aufgeschlossen, umsichtig, interessiert, konnte ihr fundiertes Wissen an uns gut weitergeben, beherrschte mehrer Sprachen, ging auf die Reisenenden zu, kümmerte sich sehr um sie. Überalle war genügend Zeit - einziges Manko: bei den griechischen und römischen Ruinen von Èmpuries müsste es Zeit für das Eigene Erkunden/Möglichkeit des Kaufs von Souveniers geben.


---

Excelente tour a la Costa Brava

7 Junio 2014 / Tinguaro O Santa Cruz de Tenerife, España / TRIPADVISOR

Excelente tour y muy bien organizado. Mucho más de lo que nos esperábamos. Autobús moderno y limpio. La guía muy amable. El itinerario muy variado. Las explicaciones interesantes y nada aburridas. Se visitan pueblos del litoral de la Costa Brava de estilos diferentes pero todos muy bonitos (uno de medieval es una preciosidad). Por la mañana hay también un paseo a pie desde donde se ven unos paisajes muy fotogénicos. Por la tarde hay un viaje en un barco al lado de unos acantilados espectaculares y se puede ver también el fondo del mar. La última parada son las ruinas que dicen ser las más importantes de Cataluña. Excursión muy recomendable. Para nosotros fue lo que más nos gustó de una semana de vacaciones en Barcelona.


---

Nice tour

31 Mayo 2014 / customer  GetYourGuide – Reykjavík, Islandia / GETYOURGUIDE

Fullfilled our exptecdaction as hoped. Monika was on time and kept the group on time all time long. She was relaxed and informative and had a good presence. I would this tour to my friends if asked. Greetings from Iceland Kim and Setta.


---

Organizacion optima, paisajes encantadores

10 Mayo 2014 / Antonio G Madrid, España / TRIPADVISOR

El pasado verano hicimos la excursión a la Costa Brava y este año hemos visitado el Pirineo catalán con esta misma compañía. Las dos excursiones nos han gustado muchísimo y nos han quedado unos muy gratos recuerdos de ambas. La organización es inmejorable: el conductor puntual y muy correcto en el trato, el autocar limpio y cómodo, y la guía extremadamente amable, atenta a todo, con explicaciones muy apropiadas y contestando a todas las preguntas. Recomendamos, sin ninguna duda, estos tours a todo el mundo, no defraudarán. Los precios son bajos en comparación con todo lo que se ofrece.


---

Fabuloso

3 Mayo 2014 / SUSANA – MADRID, España / GETYOURGUIDE

Para los más madrugadores es perfecto para l@s perezosos como yo cuesta un poco levantarse pero el esfuerzo merece la pena es una maravilla y es variado, ya q contrasta costa con parte más antigua.


---

Schöne Tour

13 Agosto 2013 / Customer GetYourGuide – Hamburg, Alemania / GETYOURGUIDE

Die Tour erfolgte über die Partymeile in Lloret de Mar mit anschließender Bootsfahrt zu Tossa de Mar. An beiden Plätzen gab es Zeit, die Stadt zu erkunden oder an den Strand zu gehen. Eine kleine Tour in der ummauerten Stadt in Tossa de mar war auch noch drin. Alles in allem ein schöner Tag.


---
Punto de partida
---
Plaza Cataluña, delante del Hard Rock Café. Recomendamos estar 15 minutos antes de la hora de salida.
El tour en imágenes
---
Lloret de Mar

Lloret de Mar

Lloret de Mar

Lloret de Mar

Lloret de Mar

Lloret de Mar

Lloret de Mar

Lloret de Mar

Lloret de Mar

Lloret de Mar

Lloret de Mar

Lloret de Mar

Tossa de Mar

Tossa de Mar

Tossa de Mar

Tossa de Mar

Tossa de Mar

Tossa de Mar

Tossa de Mar

Tossa de Mar

Tossa de Mar

Tossa de Mar

Tossa de Mar

Tossa de Mar

Tossa de Mar

Tossa de Mar

Tossa de Mar

Tossa de Mar

Tossa de Mar

Tossa de Mar

Tossa de Mar

Tossa de Mar

Tossa de Mar

Tossa de Mar

Tossa de Mar

Tossa de Mar

Tossa de Mar

Tossa de Mar